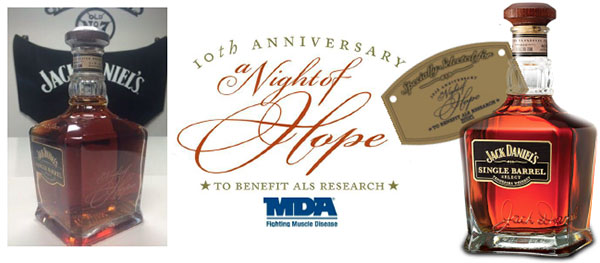 MDA Night of Hope is honored to offer Gala patrons this one of a kind JACK DANIEL'S SINGLE BARREL WHISKEY signed by a dedicated supporter of ALS research, Jeff Arnett, who is only the 7th Master Distiller in Jack Daniel's 148-year history.
This limited edition single Barrel Whiskey with a commemorative label and bottle medallion honors the Night of Hope's 10th anniversary and the difference its supporters have made in the fight to find a cure for ALS. Only 276 bottles will be available, so order early. The $175 price will directly support ALS research. Thank you & Cheers!
Contact Angela Simmons, Executive Director, Muscular Dystrophy Association, 1990 Lakeside Parkway, Suite 100, Tucker, GA 30084 or by calling 770.621.9800 to reserve your limited edition bottle!
---
Night of Hope Gala has raised over $5.4 million dollars to fund critical research for ALS.
Over the past nine years, the Night of Hope Gala has raised over $5.4 million dollars to fund critical research for ALS. Each year, the gala committee enlists the help of corporate sponsors and individual donors to assist in the major undertaking of bringing awareness to this tragic illness and to fund various research initiatives.
On October 16, 2015 at 6:30pm, the 10th Annual Night of Hope Gala will take place at the InterContinental Hotel Buckhead in Atlanta, GA. This premier, black tie event has become one of the largest in the southeast and will gather over 600 corporate and professional leaders to celebrate and support ALS research. The evening features cocktails, a seated dinner with live entertainment by the Craig Duncan Orchestra and a silent and live auction.
The funds raised at the event are earmarked by the ALS Division of MDA, which leads the worldwide search for treatments and a cure for ALS. MDA maintains 42 MDA/ALS Centers across the country including the ALS Center at Emory University. In 2008 Emory University was named one of five MDA National Clinical Research Centers.
OUR 10-YEAR SPONSORS